See that graph: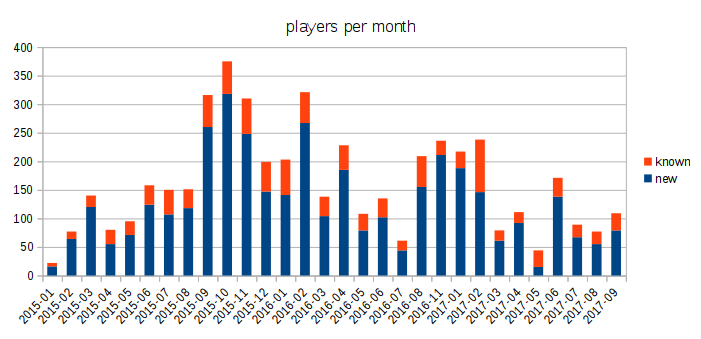 That's the count of players on my server per month. In
blue
, the amount of new players per month that were never seen before, in
orange
, the amount of players per month who were already seen at least one time in one previous month. Note that the graph is underrated for some old months due to the uid bug that shared uid for players. Note also that I lost September, October, and December 2016's logs (they were not recording…).
So I recorded
1371 unique players for the last 10 months
. For the first day of October, there was 20 unique players, five known, fifteen who were never seen before. Of course, some of them just had brand new config because re-installing Unvanquished (there was more than 5 known people on our community game, and we know some had to redo their set-up again), but you get a good feeling about the trend.
So, what we have? Just for the past 2017 year, we got
50~200 new players per month
. Where are they? How to keep them? How makes them meeting together? How to make them enjoying the game as it was designed for: playing with and against real people?
Seeing that, I revived the scheduled games, and I've configured my server to announce the scheduled games. But it appears players who played scheduled games are not the new ones, except 1 or 2 of them who usually do not return then next Sunday, but keep playing alone on some daily basis for some of them. When I join randomly my server, I play with people I never see on scheduled games.
Just for number lovers, the details (of course the last October entry only counted one day yet):
Code: Select all
month new known unique
2015-01 16 6 22
2015-02 64 13 77
2015-03 120 20 140
2015-04 55 25 80
2015-05 71 24 95
2015-06 124 34 158
2015-07 107 43 150
2015-08 118 33 151
2015-09 260 56 316
2015-10 318 57 375
2015-11 248 62 310
2015-12 147 52 199
2016-01 141 62 203
2016-02 267 54 321
2016-03 104 34 138
2016-04 185 43 228
2016-05 79 29 108
2016-06 102 33 135
2016-07 44 17 61
2016-08 155 54 209
2016-11 211 25 236
2017-01 188 29 217
2017-02 146 92 238
2017-03 61 18 79
2017-04 92 19 111
2017-05 15 29 44
2017-06 138 33 171
2017-07 67 22 89
2017-08 55 22 77
2017-09 79 30 109
2017-10 5 15 20